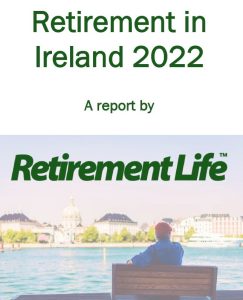 We are delighted to publish our Retirement in Ireland 2022 Report. The report, which surveyed HR divisions within State and semi-State organisations, and private companies across the Republic of Ireland and Northern Ireland, asked a variety of questions aimed at gathering up-to-date data on retirement planning practices across a range of different sectors.
From our analysis of the survey results we found that individuals approaching retirement age are most concerned about loss of identity and self-worth associated with professional life after pension-related issues.
The report also indicates that the Covid-19 pandemic has had a significant impact on retirement procedures and practices, with 59% of participating organisations stating that employees took unplanned or premature retirement due to Covid-19.
When entering retirement, it can be difficult to find a sense of purpose outside professional life and many people struggle to re-imagine their identities. This report aims to highlight the concerns of employees entering retirement and provide practical recommendations to both individuals and their employers on how best to approach and support retirement planning.
Based on the report's key findings, we offer several recommendations for those planning on and preparing for retirement. These recommendations include retirees accepting their new identity, focusing on their mental health and continuing to develop their skill base.