As we prepare for retirement, we need to reflect on our current lifestyle behaviours.
A change to how we live our life can reduce our chances of developing:
Diabetes
Cancer
Heart Disease
Lung Disease
Other forms of ill-health.
Tips on Lifestyle Behaviours
Sit less and move more: Be conscious of the length of time you spend sitting. Get up and stand and stretch.
Design a physical activity pattern that suits your condition and work on taking 30 minutes exercise at least 5 times a week. Take a look at this website: getirelandactive.ie
Don't smoke and if you do then try and quit smoking which is the best thing you can do to improve your health.
To find out more about good healthy eating habits take a look at this Food Pyramid: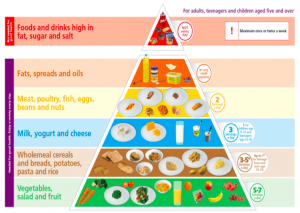 In summary, we suggest that you know your numbers for Healthy Living.
A quick look at the following will set you on the path to a healthier lifestyle.
Blood Pressure: Normal 120/80 and 140/80 for those over 65
Cholesterol: 5.0 or less
Sugar levels: 5.6 or less (fasting)
Body-mass Index: 18.5 to 24.9
Waist Measurement: No more than 80 cm (woman) 94 cm (man)
Fruit & vegetables: Eat 5 to 7 different portions with colour variety daily
Alcohol per week – Standard drinks – 11 (woman) 17 (man)
Physical Activity: At least 30 minutes per day –5 times a week